This post brought to you by Scotts Miracle-Gro. All opinions are 100% mine.
Fall is one of my favorite times of the year. The scents, the views and most important the colors add to a backdrop of beauty that makes this time of year so unique.  One of my favorite things to do during this time is to decorate for the season not only with adorable fall decor but adding various fall plants that seal in the perfection of the season. We usually go with Mums to help enhance our landscape and give way for the winter weather ahead. I also take this time to plant bulbs that will gift us with their beauty in the spring.
Sometimes trying to figure out what you want to do can be the tricky part. Not only because of the time or size of the project but what items will help prolong your beauty during the crisp months ahead. However, just because it's fall doesn't mean you can't get some Fall gardening in!  With the help of

Not only will you have all the help you will need but a perfect outdoor scape as well :)
I know many times space and time can be an issue. However, you can go with small projects that will need just a little love and some Miracle Grow potting plant mix to last you the whole season long.
With something as simple as some decorative mums on your stoop you are adding life,color and beauty during the season.Or, you can let your creativity run away with beautiful creations like this one.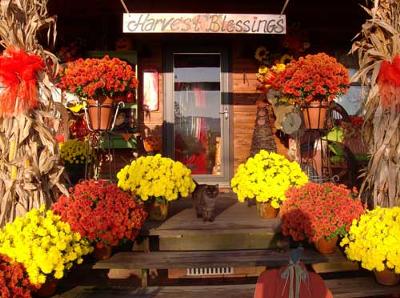 In the end all you need is imagination, plants and to make them last the season long some  Miracle-Gro® Potting Mix&  Miracle-Gro® LiquaFeed® to make your beauty last the season long!
Do you need more ideas to beautify your outdoors? I invite you to visit the Miracle grown Find beauty in the Fall page, where you will find ideas that are suited perfectly for the region of the country you live in. There is a page fitted perfectly for the area of the country filled with ideas, pictures,instructions and so much more!
I also invite you to like the  Miracle-Gro Facebook page! Filled with even more ideas, coupons, and so much more!
What fall ideas and projects will you be using to enhance your outdoors this season?